Peppermint Dog Candy Canes
Sugar Free & Adorable!
What's Cooking? Dog treats, of course! The Dog Treat Mixing Bowl newsletter will keep you up-to-date on the latest recipes, ingredients, tips and techniques. Our goal is to make baking homemade dog treats simple, fun, and nutritious.
You are receiving this email because you are a subscriber to the Dog Treat Mixing Bowl Newsletter.
Do you know a dog that would appreciate a homemade dog treat? Then forward a copy of this newsletter to your friend and their dog.
If a friend DID forward this to you, and you'd like to know more, you can subscribe to this newsletter. Or, visit us online at Dog Treat Kitchen.com
If you'd prefer, you can read this newsletter online.
I would love to know what you're thinking! Simply hit the reply button for your questions and comments about this newsletter.


---
Dog Treat Recipe of the Month:
Give the gift that will have your friends and family talking for weeks. Not to mention the fact that their dogs will crave the fun texture, savory chicken and new flavor of peppermint in these Candy Canes for Dogs.

If this isn't the most adorable sugar free homemade dog treat, I'm not sure what is. There are several steps to get these just right, but it is well worth any extra effort because the final product is simply too cute for words.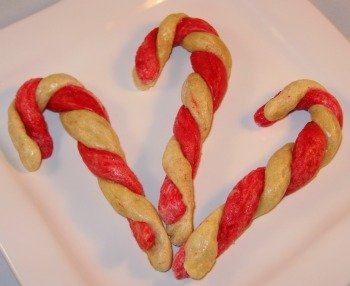 You are not required to add the peppermint flavoring if you don't have it, the treat will be just as delectable to your four legged friend.

The same goes for the red food coloring. Although the treats won't be quite as cute without the alternating colors, the treat will still taste great. Oh, but don't forget to wear gloves if you do use red food coloring, otherwise you'll be caught red handed! :)

Do you love making homemade dog treats for your dog? Would you like to know more about what is involved in starting your own dog bakery business? Then you may want to take a look at my favorite book on starting a dog treat business. First, read my book review about how to start your own dog bakery business. It's fun, exciting and not as complicated as you may think! :)


---
Dog Treat Baking Tips
This month's tip comes from Susan who wanted an alternative to peanut butter in her dog treat recipes. Thanks Susan! :)

If your dog is sensitive or allergic to peanut butter, you can still make "peanut butter inspired" dog treat recipes. Simply substitute with:
Soy Butter - Available in most major grocery stores
Sunflower Butter - Or Sun Butter as it's called
Pea Butter - It's made with golden brown peas! :)
Nut Butter - For example, Almond, Cashew or Pecan. Use these, only if your dog is not sensitive to nuts.
Please remember that you should not give your dogs macadamia nuts, and most agree that walnuts are not recommended. Please also note that nut butters are very high in fat. Although it's a "good" fat, it's still a fat. You will want to limit the amount you give to your dog.
Share your dog treat tips with your fellow bakers! We know you have lots of great ideas and ways of making treats. Share your tips and they might be featured in our newsletter. Or, if you have a baking question you'd like answered here, let us know and the answer may be published in the next issue.


---
Create a Web Page Just for Your Dog
We have a new feature on DogTreatKitchen.com, it's called Show Us Your Taste Testers!

We know you're not baking for yourself, so introduce us to who you're baking for! :) Create a web page just for your dog, tell us their favorite treat, what makes them special, or anything else you'd like to add.

We'll hold contests in the future for cutest dog, so be sure to add lots of photos!


---
Newsletter Sneak Peek
What's New for January?

Winter Squash Muffins We'll harness the garden's bounty with hearty and delicious muffins to warm your dog's tummy inside and out. :)


---


Are you and your dog hungry for more? Let me know what you would like to see on the Dog Treat Kitchen.com.

Want more of a certain type of recipe? Need treat ideas for your next dog party? Let me know what's missing from the dog treat pantry and I'll get to it right away.

Thanks for reading. Until next month,

Happy Dog Treat Baking!

Michelle

www.dogtreatkitchen.com