Take Your Dog to Work Day
on June 21st &
Help Awareness for Dog Adoption
What's Cooking? Dog treats, of course! The Dog Treat Mixing Bowl newsletter will keep you up-to-date on the latest recipes, ingredients, tips and techniques. Our goal is to make baking homemade dog treats simple, fun, and nutritious.
You are receiving this email because you are a subscriber to the Dog Treat Mixing Bowl Newsletter.
You can also read this newsletter online.
---
Save a Dog's Life with
Homemade Dog Treats
Can you really save a dog's life with treats? Yes, when you make and sell homemade dog treats to raise funds to support and bring awareness to your local animal shelter.

Friday, June 21st is the official "Take Your Dog to Work Day" supported by Pet Sitters International.

Bringing your dog to work is fun, but this special day has a purpose. The purpose is to bring attention to your local animal shelter, or other worthy dog cause.

Our Easy Microwavable Dog Treats will come in handy in so many ways.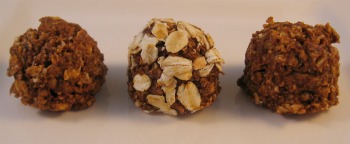 Use our easy homemade dog treat recipes to:
Give treats to the other dogs at work or to their dog parents to take home for them.
Package your treats and sell in a fundraiser to support your local animal shelter.
You can find loads of helpful information from how to get your boss to agree to bring your dog to work, how to have a successful day for everyone and how to promote your cause (and your business) with the media.
If your coworkers' dogs enjoy your homemade dog treats, maybe it's time to invest in starting your own Dog Bakery Business. You'll have many willing taste testers to try your products on Take Your Dog to Work Day, and be able to help a local shelter, too.

---
Special Announcement
I wanted to let you know that there will be a special edition of the newsletter in a couple weeks as I'm finishing my first collection of Dog Treat Recipes in an eBook.

They are many new recipes with tons of photos and helpful tips. There's a couple No-Bake recipes, of course cheese and bacon recipes, and new icing and frosting recipes! :)

You, my dear newsletter subscriber, will not only be the first to know when it is released but I'll also be running a special on the price of the book just for you.

So be on the lookout for this awesome collection of recipes that I know you're going to love! :)


---
DogTreatKitchen.com Testimonials
We get lots of feedback from our website visitors, just like you. Here's what some of them are saying . . .


"Thank you, this is a great site!"


"I love your website!!!! I am making dog treats for all my friends and families dogs, I'm sure they're going to love all the recipes that I have chosen!! Thanks for having such an awesome website!!!"


What are your thoughts? Don't keep them to yourself, Contact Us and let us know what you like, or even dislike, about Dog Treat Kitchen.com. The more you share, the more you help all dog treat bakers, and their dogs.


---


Are you and your dog hungry for more? Let me know what you would like to see on the Dog Treat Kitchen.com.

Want more of a certain type of recipe? Need treat ideas for your next dog party? Let me know what's missing from the dog treat pantry and I'll get to it right away.

Thanks for reading. Until next time,

Happy Dog Treat Baking!

Michelle

www.dogtreatkitchen.com