Announcing .....
Our First Collection of
Easy Dog Treat Recipes!
What's Cooking? Dog treats, of course! The Dog Treat Mixing Bowl newsletter will keep you up-to-date on the latest recipes, ingredients, tips and techniques. Our goal is to make baking homemade dog treats simple, fun, and nutritious.
You are receiving this email because you are a subscriber to the Dog Treat Mixing Bowl Newsletter.
You can also read this newsletter online.
---
Original, Tested &
Super Easy Dog Treat Recipes
Last month I mentioned that we would be releasing our very first cookbook. It has been several months of research, recipe development and testing to get the recipes just right. Finally they're ready. The treats have been approved by my fortunate taste testers, and I hope you'll agree that they are our Easiest dog treat recipes yet!

Read more about our new Collection of 15 Easy Dog Treat Recipes with 5 Ingredients or Less!.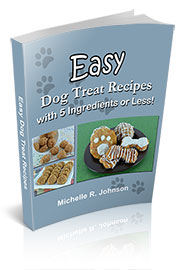 We're offering our loyal newsletter subscribers a limited time discount on the purchase of our first eBook.

For the next two weeks you can use this promo code when purchasing the ebook:

lovemydog

So, instead of the low price of $7.95, the price for the next two weeks for you is $5.95!

This promo code will only be valid until the end of July 20th.

---
Frozen Dog Treat Recipes
Helping your dog cool down is a vital responsibility for us dog parents. Cool, fresh water is always welcomed. But, I'm sure your dog will love the taste of her very own homemade frozen dog treat.

Of all the treats you can make for your dog, these are some of the easiest. Just mix, pour, freeze and serve.

Start with our sweet frozen treat recipe for Peanut Butter & Fruit Smoothie Pops, they're also pictured below.

Check out all of our frozen dog treat recipes to help your dog stay as cool as a cucumber! :)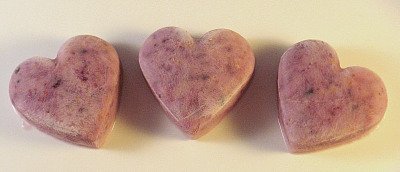 ---
DogTreatKitchen.com Testimonials
We get lots of feedback from our website visitors, just like you. Here's what some of them are saying . . .


"I love your website and I love your recipes!"


"I can't thank you enough for having this website! I have always been picky about which treats/cookies I give my kids (dogs), after finding your website I make all of them myself and they LOVE them! I also find making treats therapeutic since I became disabled 5 years ago at age 27. I have learned a lot of different baking techniques which also help me with people food, ie: how to make oat flour. Thank you so much for maintaining and creating such a wonderful site!"


What are your thoughts? Don't keep them to yourself, Contact Us and let us know what you like, or even dislike, about Dog Treat Kitchen.com. The more you share, the more you help all dog treat bakers, and their dogs.


---


Are you and your dog hungry for more? Let me know what you would like to see on the Dog Treat Kitchen.com.

Want more of a certain type of recipe? Need treat ideas for your next dog party? Let me know what's missing from the dog treat pantry and I'll get to it right away.

Thanks for reading. Until next time,

Happy Dog Treat Baking!

Michelle

www.dogtreatkitchen.com