Peachy Keen Chewy Oatmeal
Dog Cookie Recipe
What's Cooking? Dog treats, of course! The Dog Treat Mixing Bowl newsletter will keep you up-to-date on the latest recipes, ingredients, tips and techniques. Our goal is to make baking homemade dog treats simple, fun, and nutritious.
You are receiving this email because you are a subscriber to the Dog Treat Mixing Bowl Newsletter.
Do you know a dog that would appreciate a homemade dog treat? Then forward a copy of this newsletter to your friend and their dog.
If a friend DID forward this to you, and you'd like to know more, you can subscribe to this newsletter. Or, visit us online at Dog Treat Kitchen.com
If you'd prefer, you can read this newsletter online.
I would love to know what you're thinking! Simply hit the reply button for your questions and comments about this newsletter.


---
Dog Treat Recipe of the Month:
Chewy Peachy Keen Oatmeal Dog Cookie Recipe - The classic oatmeal cookie recipe is transformed into a sweet treat for your dog. The addition of peaches and molasses provide enough sweetness to satisfy most dogs sweet tooth cravings.

There are several variations you can make for this dog cookie recipe. Although fresh peaches are a healthy treat for your dog, you can also use canned and frozen peaches. Be sure to check out our tips for using all three types in your homemade dog treats.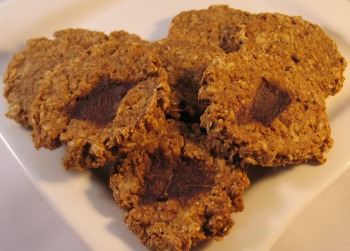 A fun way to decorate this dog cookie recipe is to slice a small piece of peach and embed it in the cookie before you bake. When the finished treat is ready to serve, your dog will have a nice texture difference in the cookie as the middle will still be slightly soft and sweet.

Do you like the idea of providing unique and healthy dog treats for not only your dog, but all dogs? Maybe you can see the potential for fruit and vegetable based dog treats on the dog treat market. Then you may want to consider starting a dog treat business. To help you get started, read my review of the book about how to start your own dog bakery business.


---
Busy Buddy Dog Treat Toys
There are several toys in the Busy Buddy line of toys. This month we're focusing on the Kibble Nibble toy. Below is a very helpful video reviewing the toy and showing a dog playing with it, too. The toy is dishwasher safe, so it can be kept clean for daily use. Your dog may like it so much that all of her daily food can be served in the toy.

You can use your dogs regular dry kibble in this Busy Buddy toy, or bake a healthy dog treat extra hard to use in this fun and entertaining toy.


---
DogTreatKitchen.com Testimonials
We get lots of feedback from our website visitors, just like you. Here's what some of them are saying . . .


"When I found your site, it helped me find a way to make treats for our Shih Tzu mix who was itching all the time. I am so thankful for this website."


"I LOVE the newsletters from you! The recipes are always amazing and delish. My canine adores the recipes and she woofs you very much for the newsletters chalk full of cool ideas. Thank you!"


What are your thoughts? Don't keep them to yourself, Contact Us and let us know what you like, or even dislike, about Dog Treat Kitchen.com. The more you share, the more you help all dog treat bakers, and their dogs.


---
Dog Treat Baking Tips
This months tip is for the Peach & Oatmeal dog cookie recipe above. If you are short on time, you'll love this quick tip. Instead of scooping out individual cookies, turn the dog treat dough into traditional ice box cookies.

What are ice box cookies, you ask?

They are not a single type or flavor of cookie, it's more of a method. The ice box cookie method is a quick and easy way of turning cookie dough into a slice-able log for easy baking.

For the Peach & Oatmeal cookies you will want to follow all the steps through step #8. Then lay out a large sheet of wax paper. Dump the dough onto the paper. Start to roll and shape a log approximately 1 to 1 1/2 inches in diameter.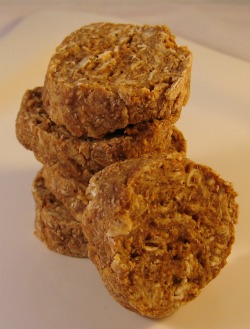 Once you have an even log, twist the ends of the wax paper like a piece of candy. Store the log in your freezer in a labeled gallon size freezer bag for up to 2 months.

If you want to bake the same day, leave the log in the freezer for a minimum of an hour. If you want to bake several days later, remove the log and let it come to room temperature while you preheat your oven. When your oven is ready, slice 1/2 inch thick slices of cookies and lay on a prepared baking sheet. Bake as long as the recipe instructs.

A fun tip from Martha Stewart is to store your dough, once in a log shape, in an empty paper towel tube to keep it's shape while it freezes.

Once you know your dog loves a particular dog treat recipe, you can bake a double or triple batch and freeze in logs for ice box cookies any time your dog gets a desire for homemade dog cookies.

Share your dog treat tips with your fellow bakers! We know you have lots of great ideas, ways of making dog treats, and creative ways of decorating homemade dog treats.


---
Newsletter Sneak Peek
What's New for July?

Microwave Dog Treats

Summer is in full swing, skip the oven and make these quick and microwavable homemade dog treats next month.


---


Are you and your dog hungry for more? Let me know what you would like to see on the Dog Treat Kitchen.com.

Want more of a certain type of recipe? Need treat ideas for your next dog party? Let me know what's missing from the dog treat pantry and I'll get to it right away.

Thanks for reading. Until next month,

Happy Dog Treat Baking!

Michelle

www.dogtreatkitchen.com