Double Cheese Dog Biscuits
with Cheesy Filling or Dip
What's Cooking? Dog treats, of course! The Dog Treat Mixing Bowl newsletter will keep you up-to-date on the latest recipes, ingredients, tips and techniques. Our goal is to make baking homemade dog treats simple, fun, and nutritious.
You are receiving this email because you are a subscriber to the Dog Treat Mixing Bowl Newsletter.
Do you know a dog that would appreciate a homemade dog treat? Then forward a copy of this newsletter to your friend and their dog.
If a friend DID forward this to you, and you'd like to know more, you can subscribe to this newsletter. Or, visit us online at Dog Treat Kitchen.com
If you'd prefer, you can read this newsletter online.
I would love to know what you're thinking! Simply hit the reply button for your questions and comments about this newsletter.


---
Dog Treat Recipe of the Month:
Cheesy Dog Biscuits with a Cheese Filling - If you share your home with a cheese connoisseur, you know that no other treat will satisfy quite as well as one with cheese. Well, look no more, here is the cheese dog treat to end all cheese dog treats.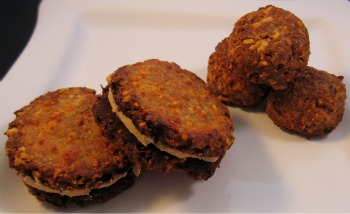 Not only are there two different flavors of cheese in this homemade dog treat, but the amount is staggering. The total amount of cheese is actually more than the amount of flour! This is one cheesy treat.

But we couldn't stop there. We found a delectable cheese filling to create the cheesiest treat known to your dog. The cheese filling makes a great dip for other flavors of homemade dog treats, too.

Don't forget about your dogs favorite treat toy. You can mix this filling with treats or dry food to create a long lasting food filled toy for your dog.

Do you have lots of ideas for making tasty and cute homemade dog treats? Then you may want to consider starting a dog treat business. To help you get started, read my review of the book about how to start your own dog bakery business.


---
Facebook, Twitter & More
There's a new feature at DogTreatKitchen.com. We have fun little buttons on the top right of every page that welcome you to share the page you're on with your friends at Facebook, Twitter and many other networking websites.

You can also print or email the page, or choose it as a favorites in your list of websites.

If you see something you like, and you know someone's dog would like it too, then please feel free to use these handy buttons to quickly share healthy homemade dog treat recipes! :)


---
DogTreatKitchen.com Testimonials
We get lots of feedback from our website visitors, just like you. Here's what some of them are saying . . .


"I am so glad we found this site. I have forwarded it to many Furr-Baby parents. Thank you so much."


"Thank you so much for the information you have offered through your website. I have some sick pooches and I have to learn to feed them differently. You have given me some insight to their healing through the recipes you have formulated for certain health problems. Thank you once again."


What are your thoughts? Don't keep them to yourself, Contact Us and let us know what you like, or even dislike, about Dog Treat Kitchen.com. The more you share, the more you help all dog treat bakers, and their dogs.


---
Dog Treat Baking Tips
How to Make a Flat Cookie Shape with a Round Scooper:

I love using a squeeze release scooper with dog treat dough. You get a perfectly sized portion every time. It's also quick and easy.

But, after awhile, rounded treats are kinda boring. That's when you may want to make a regular flat cookie shape for your dog.

Use any flat surface, like a drinking glass or bottom of a measuring cup. Pour water into a bowl, and dip the bottom of the cup into the water. I prefer a clear glass, or clear plastic cup so I can see if the circle I'm creating is even and mostly symmetrical. Then repeat, dip in water, squish the cookie and bake.

The flattened cookie will bake quicker than the rounded treats. So, unless you want a very dry crunchy treat, reduce the baking time by 5 minutes, and check for doneness.


Share your dog treat tips with your fellow bakers! We know you have lots of great ideas, ways of making dog treats, and creative ways of decorating homemade dog treats.

Share your tips and they may be featured in our newsletter. Or, if you have a baking question you'd like answered here, let us know and the answer may be published in the next issue.


---
Newsletter Sneak Peek
What's New for May?

Peanut Butter & Banana Dog Cake

We're going to celebrate spring with classic dog cake flavors. No need to have a "reason" to party, loving your dog is enough reason to throw a great party and have a great cake! :)


---


Are you and your dog hungry for more? Let me know what you would like to see on the Dog Treat Kitchen.com.

Want more of a certain type of recipe? Need treat ideas for your next dog party? Let me know what's missing from the dog treat pantry and I'll get to it right away.

Thanks for reading. Until next month,

Happy Dog Treat Baking!

Michelle

www.dogtreatkitchen.com