Broccoli Dog Treats? Really?
Dogs Love Them!
& Pet Poison Prevention
---
Broccoli Dog Treat Recipe
Broccoli is in season in March. It's fresh, nutritious, and believe it or not, dogs love it. :)

Sometimes we can negatively influence our dogs when they try a new food. If we're thinking, "you're not going to like this", chances are good that your dog will be hesitant to eat the new food. So, think positively, make a batch of broccoli dog treats and see what happens.

When I'm trying new treats on my family of taste testers I will put one of their favorite treats under the new treat. This way they have to at least touch and smell the new treat to get to their favorite. Sneaky? Yes. But it works. My other trick is to make the new treat seem very very special. I talk it up, as it were, and present the new treat slowly and with hype. Once my taste tester has tasted the new treat, then it's no longer "new" and they often gobble them up afterwards.

Do you have a trick for getting your dog to try a new treat? I'd love to hear it! :) Just hit reply to this email and let me know.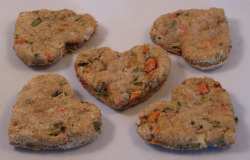 Salad in a Dog Biscuit - Broccoli is full of Vitamins K & C. Plus it has antioxidants, flavonoids and lots of fiber. Broccoli has been shown to help digestion, detoxification and even be an aid in preventing cancer. Give this green veggie a try, I bet your dog will thank you. :)

Make this dog treat recipe even more "broccoli-y" by replacing the mixed frozen veggies with all broccoli.

Still don't believe that dogs like broccoli? Then check out these two adorable pups that think broccoli is the tops:

Meet sweet Smokie, aka Mo Mo, from British Colombia, Canada.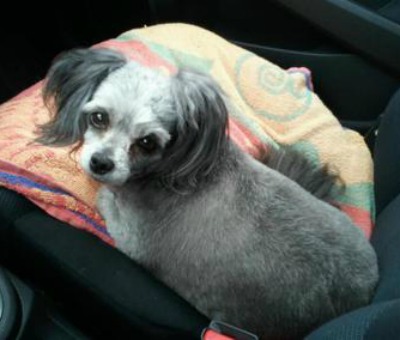 His guardian Valerie says "His favorite treat is actually broccoli!! You can't sneak it into the house, he smells it the minute you walk through the door and dances until you give it to him!!"

Read more about Mo Mo and see more pictures on his page here: Smokie the Maltipoo

Our second broccoli aficionado is Gardel from Hermosa Beach, CA. He has broccoli in his meal twice a day. His pet parent is smart and mixes the broccoli in with other veggies, chicken and rice. That's another clever way of getting nutritious broccoli into your dogs diet.

Read more about Gardel and see more pictures on his page here: Gardel the English Black Lab

Show us your dog, create a full page by going to our Dog of the Month page or by simply hitting reply to this newsletter and sharing your dogs story and pictures with me via email.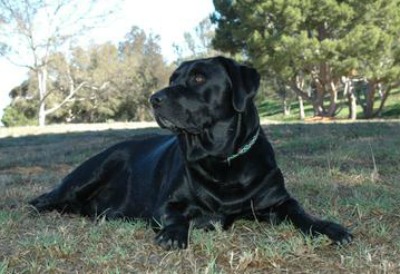 ---
March Dog Events
March is the month to brush up on your Poison Prevention knowledge. Do you know what house plants, household cleaners and foods that are dangerous for your dog?

Review this helpful PDF from the ASPCA regarding what to avoid and what to do if you have an emergency:

http://www.hsvcity.com/animal/documents/Top_10_Poison_Prevention_Tips.pdf

On March 10th - 13th is the 125th Anniversary of the Crufts Dog Show. Cheer on your favorite breed as they compete for Best in Show. Learn more at http://www.crufts.org.uk/

One special day this month, March 23rd, is dedicated to puppies with National Puppy Day. I don't know about you, but no matter the breed, age or size of a dog I end up calling it "puppy" anyway. :) So, to me, every dog qualifies for National Puppy Day. Find out fun ways to celebrate this day at: http://www.nationalpuppyday.com/#!celebrate/c20bk


---
Reduced Price on my eBooks
Both of my eBooks, 15 Easy Dog Treat Recipes and my second eBook Dog Cake Recipes for Every Occasion have been reduced in price. No need for a temporary coupon code, they're both now only $4.95 each. So, if you've been hesitating to check out my original, tested and tasty dog treat recipes, now's the time! :)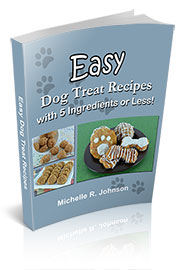 ---
DogTreatKitchen.com Testimonials
We get lots of feedback from our website visitors, just like you. Here's what some of them are saying . . .


"When I found your site, it helped me find a way to make treats for our Shih Tzu mix who was itching all the time. I am so thankful for this website."


What are your thoughts? Don't keep them to yourself, Contact Us and let us know what you like, or even dislike, about Dog Treat Kitchen.com. The more you share, the more you help all dog treat bakers, and their dogs.


---
Are you and your dog hungry for more? Let me know what you would like to see on the Dog Treat Kitchen.com.

Want more of a certain type of recipe? Need treat ideas for your next dog party? Let me know what's missing from the dog treat pantry and I'll get to it right away.

Thanks for reading. Until next time,

Happy Dog Treat Baking!

Michelle

www.dogtreatkitchen.com