Blueberry Dog Treats
New Dog Cake Recipes
& a Quick Survey
Join me on my Facebook page and post pictures of your homemade dog treats. :) Also, get updates on commercial dog treat recalls, ask me questions, and generally chat about how great our dogs are.
Do you know someone who would like this once a month newsletter? Then please forward it to them and ask them to subscribe. Thanks. :)
You can also read this newsletter online.
---
All Time Favorite Dog Treat Recipe
Blueberry & Banana
If you're just getting started making homemade dog treats, you probably want a recipe that you know will be a success with your dog. This month we're featuring a visitor favorite:

Website Visitor Reviews:

"My dogs loved these Blueberry Banana Treats. I made some soft, some crunchier. They liked them better than any treat I've given them. They refused to eat their food hoping for more of them. I also gave them to a few friends with the same reaction. Great recipe and so very, very easy. THANK YOU!"

Jenny from Pennsylvania said:

"This was really easy to whip up and didn't call for any crazy ingredients. My pups were timid at first because they're not used to such natural, healthful snacks, but they quickly gobbled them up! I'll definitely make these again for my dogs and my friends' dogs."

Dana said:

"My 12 year old min pin absolutely loves the blueberry treats with bananas and oats. The ingredients do not upset his stomach at all, which is wonderful. He has one every day. Thank you for a great recipe!!"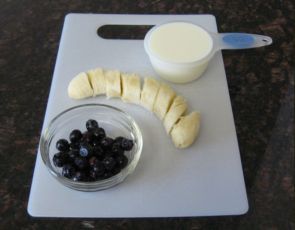 Does your dog have a favorite recipe that you're sure other dogs would love, too? Then maybe it's time to consider sharing your treats with local dogs in your area. :)

Starting your own small business can be daunting, but there's help. Start by reading my review of a great eBook about How to Start Your Own Dog Bakery. Before you know it you could be helping dog parents in your community give their dogs the very best homemade treats possible. :)


---
New Cookbook is on it's Way!
Yes, you heard right, I have a collection of brand new dog cake recipes coming very soon. I'm currently finalizing and testing the recipes to make sure that they are healthy, easy, and of course tantalizing for your dog. :)

But first, I need your help. Please take my quick survey about what YOU want in a dog cake recipe eBook. If you complete my 9 question survey I will send you a discount coupon to use on the eBook when it is released next month. :)

Go to the link below to fill out my survey:

Survey - What do YOU want in a Dog Cake Cookbook?

Thank you for your continued support. :)

---
Dog Treat Baking Tips -
I Want YOUR Feedback!
In true "dog community" style, I got many helpful tips from newsletter subscribers last month. Keep those baking tips, stories and knowledge flowing this way so we can all help each other make the process of baking treats easy and fun. :)

I wanted to share one great baking tip that came from Susan V. She had this to say:

"I've been making your peanut butter oatmeal dog treats for my furbabies for a few years now. They absolutely love them and come get me when the timer dings to tell me they are ready. They can't wait for them to come out of the oven and cool off so they can test the new batch.

I thought I would share my "trick" to make rolling them out quick and easy. I put the dough between two sheets of parchment paper and roll out fairly thin. I then move parchment paper and all over to the cookie sheet, remove the top sheet of parchment and cut the dough into squares with my pizza cutter. My guys told me they don't care what shape the cookies are ;-) I have also found that if I allow my dough to rest for about 10 or 15 minutes after I have mixed it, it gives the whole wheat flour and oats a chance to soak up some of the water and the dough is much less "sticky" when I go to roll it out.

Thanks for your great recipes, Susan V."

What adorable things do your dogs do for one of your homemade dog treats? Do you have a trick to making the whole process of baking dog treats fun and quick? I'd love to hear your answers and tips! :) Hit reply to this newsletter or use my Contact Us form to email me. Thanks. :)


---
Easy Dog Treat Recipes eBook
& Responsible Dog Ownership Month
The month of September is Responsible Dog Ownership Month. Of course, if you are subscribed to this newsletter, it's safe to say that you are already a responsible dog parent. :) But, there may be ways to improve even further. Check out the American Kennel Club Pet Promise to see if there are any ways to improve the life you and your dog share:

http://images.akc.org/pdf/rdod/Pet_Promise.pdf

My Easy Dog Treat Recipes eBook goes hand in hand with responsible dog ownership. How? Simple, one of the basics in responsible dog care is educating yourself on your dogs health and nutritional needs. Although there are some commercial dog treats on the market that could be safe and healthy for your dog, the majority are "junk food" quality dog treats.

Making your own homemade dog treats is a wonderful way of ensuring that your dog is getting fresh, nutritious and less processed dog treats. If you're new to making your own dog treats, my 15 easy, step by step photo recipes will get you started making the very best for your dog.

Read more about what you get in my Easy Dog Treat Recipes eBook, like 15 original recipes and over 90 original step by step photos.

Did you know you can get my eBook, 15 Easy Dog Treat Recipes with 5 Ingredients or Less! on your Kindle device? Easy and simple dog treat recipes are waiting for you.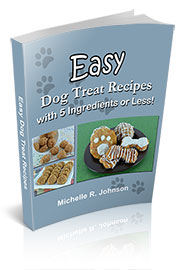 ---
DogTreatKitchen.com Testimonials
We get lots of feedback from our website visitors, just like you. Here's what some of them are saying . . .


"I LOVE your newsletter - I have found several recipes that I can make for "my son" with Addison's, and he tolerates them well with no side-effects. It has been trial and error, but he is now "living the life of Riley" with all his special foods. Thank you so much - I couldn't have done it without you."


What are your thoughts? Don't keep them to yourself, Contact Us and let us know what you like, or even dislike, about Dog Treat Kitchen.com. The more you share, the more you help all dog treat bakers, and their dogs.


---
Are you and your dog hungry for more? Let me know what you would like to see on the Dog Treat Kitchen.com.

Want more of a certain type of recipe? Need treat ideas for your next dog party? Let me know what's missing from the dog treat pantry and I'll get to it right away.

Thanks for reading. Until next time,

Happy Dog Treat Baking!

Michelle

www.dogtreatkitchen.com