Party Down with Our
Banana & Peanut Butter Dog Cake Recipe
What's Cooking? Dog treats, of course! The Dog Treat Mixing Bowl newsletter will keep you up-to-date on the latest recipes, ingredients, tips and techniques. Our goal is to make baking homemade dog treats simple, fun, and nutritious.
You are receiving this email because you are a subscriber to the Dog Treat Mixing Bowl Newsletter.
Do you know a dog that would appreciate a homemade dog treat? Then forward a copy of this newsletter to your friend and their dog.
If a friend DID forward this to you, and you'd like to know more, you can subscribe to this newsletter. Or, visit us online at Dog Treat Kitchen.com
If you'd prefer, you can read this newsletter online.
I would love to know what you're thinking! Simply hit the reply button for your questions and comments about this newsletter.


---
Dog Treat Recipe of the Month:
Banana & Peanut Butter Dog Cake Recipe - This dog cake can be made into a layered cake with cream cheese dog treat frosting, or into flexible muffins and mini muffins.

It is time to P-A-R-T-Y! Whether you have a casual party in your backyard, an easy going free for all at the local dog park, or a private party for you and your dog, our cakes and dog treat icings are what you need. Homemade dog treats turn a ho-hum party into something to remember.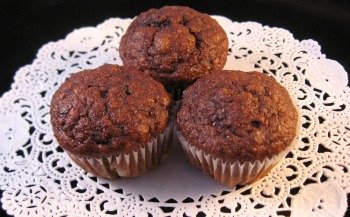 Our favorite version of this dog cake recipe is the mini muffins. They are the perfect size for smaller dogs to split into a couple servings, and just right for the medium and larger dogs to have one or two muffins.

The muffins also travel well, so if you're going to a dog party, you can bring them as a hostess gift. Or, if you are hosting a party, make extras for a sweet favor for the dog parents to take home with them.

The layered cake makes a grand impression. Especially when you cut it open to reveal the two layers with icing or bananas in the middle. Just be aware of the serving size that your dog is enjoying. An upset tummy can quickly ruin an otherwise special event or day for your dog. Keep the dog cake slices or servings about the size of similar dog treats your dog would eat. This should keep your dogs tummy in check and keep the celebration one to remember.

Do you love to decorate homemade dog treats? Or do you dream of helping dog parents create memorable and fun dog parties complete with homemade dog treats? Then you may want to consider starting a dog treat business. To help you get started, read my review of the book about how to start your own dog bakery business.


---
Canine Genius Dog Toys
Dog treat toys are the best. Your dog is motivated to play to get the food inside. You get to make healthy homemade dog treats to put in the toys and your dog gets hours of entertainment, too.

Watch this cute video of a woman and her Dachshund review the Canine Genius toys:




---
DogTreatKitchen.com Testimonials
We get lots of feedback from our website visitors, just like you. Here's what some of them are saying . . .


"This site may be a God-send for Bella Rose who seems to have food allergies. Most pet parents will do whatever is necessary to make their lives better. I will try making some treats soon. Thanks."


"I am fairly new to your web site, but I just wanted to say thank you for the wealth of information and recipes you share on your site. I have a five year old Aussie who is on a restrictive diet. As I make all of her food, your web site is a great resource. I have been making your Sweet Potato Dog Chews for a couple months now and she loves them! I look forward to each newsletter."


What are your thoughts? Don't keep them to yourself, Contact Us and let us know what you like, or even dislike, about Dog Treat Kitchen.com. The more you share, the more you help all dog treat bakers, and their dogs.


---
Dog Treat Baking Tips
What Can You Substitute?

Some dog treat recipes call for a can of tuna to be ground or pureed to make a healthy dog treat. But, are you limited to only using tuna?

Most definitely not! You can use the higher quality albacore tuna, canned salmon, canned chicken or even turkey.

What if your dog is cutting back on meat in her diet or treats, then you can puree veggies that are equivalent to the amount (by weight), to the meat dog treat recipes.

Don't hesitate to make your dog delicious homemade dog treats, substitute your way to a healthy treat you and your dog will be happy about.

Share your dog treat tips with your fellow bakers! We know you have lots of great ideas, ways of making dog treats, and creative ways of decorating homemade dog treats.


---
Newsletter Sneak Peek
What's New for June?

Oatmeal Peach Dog Cookies

Peaches!?! You bet, this sweet fruit makes a great dog treat, and we're sure your dog will have a new favorite fruit. Move over berries and melons, peaches are here to stay in these homemade dog treats.


---


Are you and your dog hungry for more? Let me know what you would like to see on the Dog Treat Kitchen.com.

Want more of a certain type of recipe? Need treat ideas for your next dog party? Let me know what's missing from the dog treat pantry and I'll get to it right away.

Thanks for reading. Until next month,

Happy Dog Treat Baking!

Michelle

www.dogtreatkitchen.com