New Wheat Free
Cranberry & Pumpkin Recipe
& National Pet Diabetes Month
Have you joined us on Facebook yet? Be sure to check us out, after reading this newsletter, to keep up with new dog treat recipes. Plus, read my answers to other dog treat bakers questions.
Facebook is also a wonderful place to share pictures of your own homemade dog treats! :) And don't forget about your treat recipients, share photos of your dogs, too. :)
*Special Note* Click the reply button and let me know what dog treat recipes you'd like to see on Dog Treat Kitchen. What recipes do you want to see in the following months? It's as easy as hitting reply and letting me know! :)
As always, you can also read this newsletter online.
---
Wheat Free Cranberry &
Pumpkin Dog Cookies
These delectable little cookies are seasonal and wheat free. They also make a fantastic doggie gift. This cranberry and pumpkin recipe makes about 3 dozen cookies, so feel free to share with all of your dogs friends.

Cranberries are loaded with antioxidants, fiber and Vitamin C. Add to the fact that these dog cookies have pumpkin and yogurt, you're dog is sure to devour these healthy treats.

Don't get fresh cranberries mixed up with the Craisins you see in stores. The dried variety often has added sugars and your dog does not need that in her treats. You can however look for unsweetened dried cranberries. But, this time of year you should be able to find fresh cranberries in about every store.

If you can't find the fresh variety, you can also use frozen cranberries. Thaw the cranberries, rinse them well, and dice them to a small size before adding to the batter.

Ingredients:
1 1/2 cups brown rice flour
1/2 cup Garbanzo Bean flour
2 eggs
1/4 cup pure canned pumpkin (not pie filling)
1 - 6 oz fat free Greek yogurt
1 1/2 cups fresh cranberries, cut small
Instructions:
Preheat oven to 350° F
In a large bowl, whisk together the brown rice flour and the Garbanzo bean flour.
In a small bowl, beat the 2 eggs.
Stir in the pumpkin and yogurt into the eggs.
Make a well in the dry ingredients and pour in the pumpkin mixture.
Stir until thoroughly combined.
Stir in the cranberries.
Lightly spray a baking sheet with non-stick spray.
Scoop dough with a small cookie scooper. Flatten each dough ball and bake for 20 minutes.
Turn off the oven, and let the treats cool in the oven to make them dry and chewy.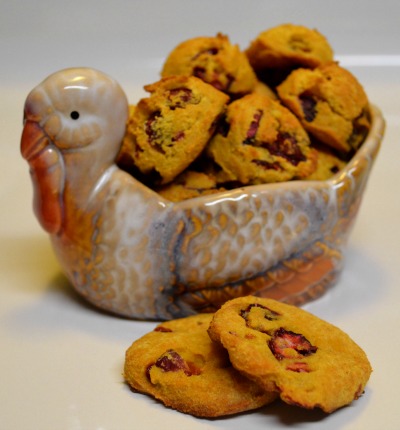 If you're ready to take your homemade dog treats to the next level, consider reading my review of the best eBook on How to Start Your Own Dog Bakery Business.


---
National Pet Diabetes Month
& Senior Pet Month
November is full of ways to show love to your dog. The first event is National Pet Diabetes Month. This growing epidemic is affecting more and more dogs. Do you know what signs to look for in your dog? Do you know the ways to prevent diabetes in your dog? Find out these things and test your pet diabetes knowledge with the quizzes at this website:

http://www.petdiabetesmonth.com/

The good news is that even if your dog has already been diagnosed with diabetes, you can learn to control it. Plus, your dogs life expectancy can be about the same if you learn to properly control your dogs diabetes.

The second special event for November is Senior Pet Month. If you already share your home with a senior dog, you know the joys of these distinguished dogs. But, if you or someone you know is considering adopting a dog, please, consider a senior dog.

There are many benefits of adopting a senior dog. They are full grown, so you know exactly how big they will get. Also, being adults, they have grown out of the "chew everything" puppy stage. Some seniors are already completely potty trained and know a few tricks.

Learn more about adopting a Senior Dog at your local animal shelter. At the very least, you can find out from your shelter when you can volunteer to love and care for the senior dogs waiting for their forever home.


---
November Featured Fan ~ Britney Ann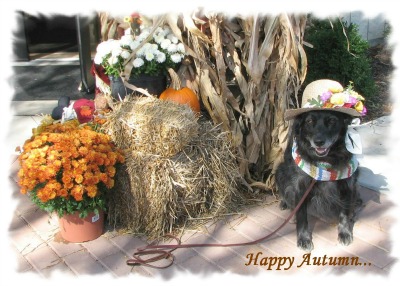 Our Featured Fan for November is Britney Ann. Her Mom has this to say about her girl:

"Britney Ann is a Rescue Australian Shepherd-Black Labrador Retriever who turned 14 years old on May 1st, 2014. She is all decked out in her Fall Finery."

"She asked me to share with you her favorite homemade treat which I make for her to support her liver function and keep her weight down."

LIVER MEATBALLS:

Ingredients:

1 pound chicken livers, fried w/o oil in an electric skillet

1 pound 85%-90% sirloin (or other ground beef)

Procedure:

Cook the chicken livers until they are well done. Cut them up into very fine bits, almost like powder. Mix them in a bowl with the raw ground sirloin/beef. Roll the mixture into little balls about the size of a quarter. Place on a flat plate in the freezer until frozen. Put into a tightly sealed container and keep in the freezer again. Take one or two out and defrost each night/day for a yummy treat that has no grains, wheat, soy, or by products; and is not a processed food. Britney Ann tested and approved--WOOF! WOOF!

And made with love by Mom or Dad :)"

Shine the spotlight on your special dog by entering him or her into our Featured Fan newsletter feature. This newsletter goes out to thousands of people every month, why not share your adorable pup with us. :)

If you'd like to have your dog be our next Featured Fan, send in a photo, description and information regarding what homemade dog treat your dog loves.

Hit Reply to this newsletter, or use our Contact Us form to enter your dog to be next months Featured Fan.


---
Reviews for Easy Dog Treat Recipes eBook
For the cost of a box of commercial dog treats, you can have my eBook,
15 Easy Dog Treat Recipes with 5 Ingredients or Less! Then you can make endless amounts of healthy, yummy, tested dog treat recipes that are already being enjoyed by countless dogs.

Here is a recent review for my eBook:

"This is a compilation of some very tasty sounding and easy recipes that any and every dog would love to chomp!"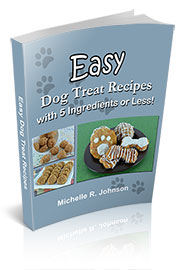 ---
DogTreatKitchen.com Testimonials
We get lots of feedback from our website visitors, just like you. Here's what some of them are saying . . .


"Thank you so much for the information you have offered through your website. I have some sick pooches and I have to learn to feed them differently. You have given me some insight to their healing through the recipes you have formulated for certain health problems. Thank you once again."


What are your thoughts? Don't keep them to yourself, Contact Us and let us know what you like, or even dislike, about Dog Treat Kitchen.com. The more you share, the more you help all dog treat bakers, and their dogs.


---
Are you and your dog hungry for more? Let me know what you would like to see on the Dog Treat Kitchen.com.

Want more of a certain type of recipe? Need treat ideas for your next dog party? Let me know what's missing from the dog treat pantry and I'll get to it right away.

Thanks for reading. Until next time,

Happy Dog Treat Baking!

Michelle

www.dogtreatkitchen.com