Puppy Treats for
National Puppy Day
& Join Us On Facebook!
---
Puppy Treat Recipes
A puppy deserves his own treats, just like the big dogs. But, what makes a good puppy treat? First, the texture. Most puppies need a soft treat that they can easily chew. The second consideration is size. Puppy treats need to be small, or at least small compared to your puppies mouth.

Thankfully you know how to make your own homemade dog treats. You can customize your puppies treats so she can get the very best straight from your kitchen.

Try out one or all of the following treats that are especially good for little puppies.

Blueberry & Banana Dog Muffin - Soft and sweet, no not your puppy, these little muffins are the perfect size and texture. Make them extra small by using a 1/2 Tablespoon cookie scooper.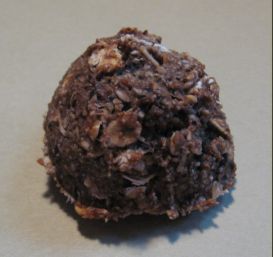 Pina Colada Dog Cookies - Introduce new flavors to your puppy with these very soft and delectable pineapple cookies. You can substitute the brown rice flour and tapioca flour for 1 3/4 cup of whole wheat flour. You can skip the shredded coconut, or find unsweetened shredded coconut at my favorite place, Amazon.com.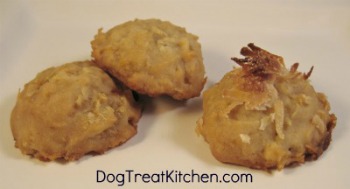 The above treats are just a small sample of all of the soft dog treat recipes you can find on my site. Use the Search function at the very top left above the navigation, type in "soft treat" to find many many more recipes that will fit your puppies taste buds.



---
Join us on Facebook!
We're having so much fun over at Facebook. Have you joined us yet? You should! We're talking about adorable dog pictures, new and exciting products and of course, dog treats! :)

Come on, don't be left out, pop over and "Like" us to make sure you receive all of the wonderful doggie news. Plus, Facebook is one of the quickest ways to communicate with me. Have a question, comment or suggestion? Then join me on Facebook. :)

Dog Treat Kitchen is on Facebook!

You can now interact with me on Facebook directly from the website, too. You don't even have to have a Facebook account to post your feedback or questions! Just go to a page, scroll all the way down to the bottom and click on the "Add a comment..." box to get started.



---
National Puppy Day - March 23rd
Sunday, March 23rd is National Puppy Day. Of course, if you currently care for a puppy, everyday is Puppy Day! :)

But, for the rest of us, there are many ways to celebrate those little balls of fur and fun. Check out the official website here:

http://www.nationalpuppyday.com/index2.htm

Don't miss out on the Puppy Theater where there's several videos of cute puppies, well, just being cute puppies!

There is also a list of 50 wonderful things you can do to celebrate this glorious Puppy Day. #38 is especially dear to my heart - Pledge to feed your puppy only all natural food and treats.

But don't stop at puppies, all dogs young and old, will benefit from a little extra love, attention and care.


---
What Makes My Recipe eBook Different
You have many choices of dog treat recipe books. People are beginning to see what you've known all along, homemade is fresh and includes quality ingredients. So, what makes the recipes I've developed in my eBook different?
Tested - All of my recipes are tested and perfected for you, the home dog treat baker. How do you know? Because I show you step by step photos of exactly how to make each recipe.
Original - I have developed each and every one of the 15 easy dog treat recipes in my eBook. You will not see them in any other book.
Easy - I made sure to make each recipe have 5 ingredients, or less. That's a tall order for a delicious and healthy dog treat. Each recipe also has common ingredients and simple equipment so you can get started making treats right away.
Healthy - When you make your own easy dog treats, you know exactly what is and isn't in them. Most packaged treats have twice or three times as many ingredients. Plus, those are full of artificial things and other products you can't pronounce.
Check out my eBook 15 Easy Dog Treat Recipes with 5 Ingredients or Less! and if you have questions, contact me on Facebook and I would be happy to help you in any way I can. Or, join the hundreds of people who have already started making their own easy, healthy and delicious dog treats by buying my recipe eBook today.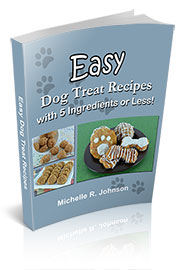 ---
More Dog Days to Celebrate in March
There are two more dog events to celebrate in March. They are...

National Pet Sitters Week - March 6th - 12th is all about those special folks who take care of our babies while we are away. If you have never used a professional pet sitter, you don't know what you're missing. Your dog gets to stay in her own home environment with all her routines and comforts when you must be gone. Plus, a pet sitter may be able to help your dog get needed exercise by a regular daily walk. Find your next professional at https://www.petsit.com/

The second dog filled day is...

Crufts Dog Show - Starting March 6th through the 9th. Check your local channels for air times. Or, get all the needed show info on their website - http://www.crufts.org.uk/

Sit on the couch with your beloved pooch and watch all the excitement unfold, I know I will! :)


---
DogTreatKitchen.com Testimonials
We get lots of feedback from our website visitors, just like you. Here's what some of them are saying . . .


"Just want to say I LOVE your site, all your help. You are an amazing dog lover and my little JRT loves everything I make. Then I started making treats for the 2 rescued dogs my daughter has now and they love when I visit because I'm never empty handed. Then others asked and now I am supplying a number of rescued, elderly, and other pets that just need to start eating more healthy."


What are your thoughts? Don't keep them to yourself, Contact Us and let us know what you like, or even dislike, about Dog Treat Kitchen.com. The more you share, the more you help all dog treat bakers, and their dogs.



---


Are you and your dog hungry for more? Let me know what you would like to see on the Dog Treat Kitchen.com.

Want more of a certain type of recipe? Need treat ideas for your next dog party? Let me know what's missing from the dog treat pantry and I'll get to it right away.

Thanks for reading. Until next time,

Happy Dog Treat Baking!

Michelle

www.dogtreatkitchen.com