Poison Prevention Awareness Month & Pet First Aid
Have you joined us on Facebook yet? Be sure to check us out, after reading this newsletter, to keep up with new dog treat recipes. Plus, read my answers to other dog treat bakers questions.
Facebook is also a wonderful place to share pictures of your own homemade dog treats! :) And don't forget about your treat recipients, share photos of your dogs, too. :)
*Special Note* Click the reply button and let me know what dog treat recipes you'd like to see on Dog Treat Kitchen. What recipes do you want to see in the following months? It's as easy as hitting reply and letting me know! :)
As always, you can also read this newsletter online.
---
Poison Prevention Awareness Month
When you start baking your own homemade dog treats, it's a good idea to review lists like our List of Foods Poisonous to Dogs. You want the special treat to nourish your dogs body, not be harmful in any way.

That's why we're taking a moment to discuss pet first aid and poison prevention. No one ever wants to think of their sweet baby in harms way. However, you can rest easier knowing that if your dog ever had an emergency, you would be prepared.

You can make your own Pet First Aid Kit by following the list of items from the Humane Society: http://www.humanesociety.org/animals/resources/tips/pet_first_aid_kit.html

Or, you can purchase a well reviewed pet first aid kit from Amazon.

An additional step is to familiarize yourself with some common household remedies for your dog. This way you can treat minor things at home, or ease discomfort while making your way to your local Vet. Plus this first aid book for dogs teaches the basics in pet CPR and what human medications are good, and bad, for your dog.

Besides being prepared with an emergency kit, it's also a good idea to get acquainted with the ASPCA's Top 10 Pet Poison Prevention Tips to know if you have any foods, plants, garden supplies or other household items that need to be removed from any possible pet contact.

We know that you love your dog, so take a moment to ensure that she is safe, and well taken care of in case of an emergency.


---
Crufts Dog Show
The world's largest dog show has started. Curl up with your favorite four legged pal and cheer on the many contestants for best breed, flyball, agility and so many more! Catch the last couple days, and the main attraction of the Best in Show competition this Sunday, March 8th.

For more videos, check out their website at http://www.crufts.org.uk/

---
March Featured Fan - Bella
Our Featured Fan for the month of March is Bella. From the picture her mom sent, she looks like a beautiful black lab.

Her mom Amy, has this to say: Bella loves Three Paws Up treats. Her favorite are Peanut Butter Pups.

It looks like she's enjoying that treat! Great photo of a patient and sweet Bella. :)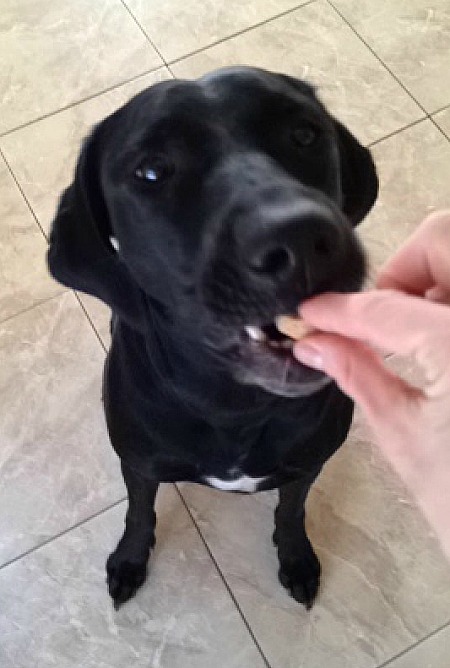 Be Our Next Featured Fan!
Shine the spotlight on your special dog by entering him or her into our Featured Fan newsletter feature. This newsletter goes out to thousands of people every month, why not share your adorable pup with us. :)

If you'd like to have your dog be our next Featured Fan, send in a photo, description and information regarding what homemade dog treat your dog loves.

Hit Reply to this newsletter, or use our Contact Us form to enter your dog to be next months Featured Fan.


---
Reviews for Easy Dog Treat Recipes eBook
For the cost of a box of commercial dog treats, you can have my eBook,
15 Easy Dog Treat Recipes with 5 Ingredients or Less! Then you can make endless amounts of healthy, yummy, tested dog treat recipes that are already being enjoyed by countless dogs.

Here is a recent review for my eBook:

"This is a compilation of some very tasty sounding and easy recipes that any and every dog would love to chomp!"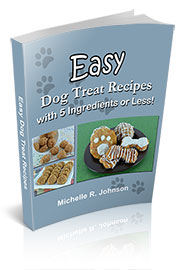 ---
DogTreatKitchen.com Testimonials
We get lots of feedback from our website visitors, just like you. Here's what some of them are saying . . .


"I love this site. Have made a few of these cookies for my granddoggies and they love them! Thank you!"


"I love your site and the recipes are great - my dog and the other testers I know have loved every single recipe I have tried! Even the dog whose human says is very picky about treats, loved the treats made with oat flour."


What are your thoughts? Don't keep them to yourself, Contact Us and let us know what you like, or even dislike, about Dog Treat Kitchen.com. The more you share, the more you help all dog treat bakers, and their dogs.


---
Are you and your dog hungry for more? Let me know what you would like to see on the Dog Treat Kitchen.com.

Want more of a certain type of recipe? Need treat ideas for your next dog party? Let me know what's missing from the dog treat pantry and I'll get to it right away.

Thanks for reading. Until next time,

Happy Dog Treat Baking!

Michelle

www.dogtreatkitchen.com