Peachy Keen
Dog Cookie Recipe &
National Pet Preparedness Month
---
Peachy Keen Dog Cookie
June is a great time to find in season and ripe peaches at your local market. Take advantage of the fresh produce while you can and make this months featured dog treat recipe: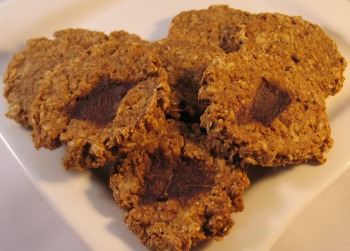 Easily make this dog cookie wheat and grain free by substituting the cup of whole wheat flour with a premade mix. Or, use 1/2 cup almond flour, 1/4 cup garbanzo bean flour and 1/4 cup tapioca flour. Whisk the 3 flours together and add where the recipe calls for the wheat flour.

You can also use canned or frozen peaches for this dog cookie recipe. The above picture is made and decorated with frozen peaches.


---
June Dog Events
June - National Pet Preparedness Month. Use this special month to remember to plan for the unexpected. Get yourself, your family and your pets ready for a natural disaster or other emergency situation.

Some of the best advice is located on the Ready.gov site. Follow their steps to have the peace of mind just in case you are faced with a difficult situation.

https://www.ready.gov/animals

The Pet Poison Helpline website also has some helpful tips to help you get prepared now, not later.

http://www.petpoisonhelpline.com/blog/national-pet-preparedness-month/

June 23rd - Take Your Dog to Work Day If you have a reasonable boss, now is the time to talk to them about supporting this fun and fur filled day. Since the 23rd is a Friday, maybe the second half of the day can be devoted to taking your dog to work. Be sure to bring lots of homemade dog treats for all to enjoy and share with the extra members of the staff.

Learn more about supporting this day here:

https://www.petsit.com/takeyourdog


---
Original Dog Treat Recipes
You'll Find Nowhere Else!
You have many choices of dog treat recipe books. People are beginning to see what you've known all along, homemade is best and includes quality ingredients. So, what makes the recipes I've developed in my eBook different?
Tested - All of my recipes are tested and perfected for you, the home dog treat baker. How do you know? Because I show you step by step photos of exactly how to make each recipe.
Original - I have developed each and every one of the 15 easy dog treat recipes in my eBook. You will not see them in any other book.
Easy - I made sure each recipe has 5 ingredients, or less. That's a tall order for a delicious and healthy dog treat. Each recipe also has common ingredients and simple equipment so you can get started making treats right away.
Healthy - When you make your own easy dog treats, you know exactly what is and isn't in them. Most packaged treats have twice or three times as many ingredients. Plus, those are full of artificial things and other products you can't pronounce.
Check out my eBook 15 Easy Dog Treat Recipes with 5 Ingredients or Less! Or, make a day special with a celebration dog cake with my Dog Cake Recipes for Every Occasion.
If you have questions, contact me on Facebook and I would be happy to help you in any way I can. Or, join the hundreds of people who have already started making their own easy, healthy and delicious dog treats by buying my recipe eBooks today.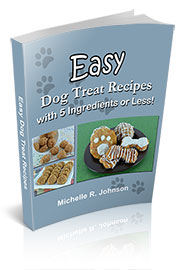 ---
Are you and your dog hungry for more? Let me know what you would like to see on the Dog Treat Kitchen.com.

Want more of a certain type of recipe? Need treat ideas for your next dog party? Let me know what's missing from the dog treat pantry and I'll get to it right away.

Thanks for reading. Until next time,

Happy Dog Treat Baking!

Michelle

www.dogtreatkitchen.com