Easy 3 Ingredient
No Bake Dog Treats
---
Quick, Easy & No Bake?
Make These Dog Treats Today!
As the first days of Summer quickly approach, it's time to give our schedules and oven a break. My easy no-bake Peanut Butter Oat Balls are a busy pet parents dream come true. They make about 32, 1 inch treats, plenty to keep your dog happy for several weeks.

Make These Dog Treats Today!
Simple - With only 3 ingredients, of which you may already have in your pantry, you can whip these treats up any time. Plus, you don't need any special equipment.


Substitutions - You can easily make all kinds of substitutions to fit your dogs diet. Instead of milk, use a non-dairy alternative like unsweetened almond or coconut milk. Your dog doesn't like peanut butter? No problem, sunflower butter and almond butter are easy to find in most major grocery stores. And last, if you need to substitute the oats, you can use puffed rice or quinoa flakes.


Quick - All the ingredients get mixed together in one bowl and then scooped and rolled into a ball shape. Although the treats will set up well once they've chilled in the fridge, you could technically sneak one or two to your dog right after shaping the treats. :)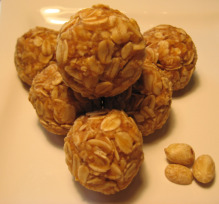 Are you still not sure about making these easy no bake dog treats? Then how about hearing from other folks who have made them for their dogs:

"I have made the peanut butter oat balls several times for my dog and her dog friends. I have yet to find a dog who didn't like them. Even some of the owners ate them, too."

"My puppy absolutely loved them! I gave him a taste of it before I put it in the fridge and he looked back up at me like, "Can I have more?" lol it was too cute!"

"My dog Duchess, a Siberian Husky, and my moms dog Leiah, a Toy Poodle, absolutely love these treats! They enjoy every moment of them from licking the spoon once they're in the fridge and then enjoying them for days afterwards!"


---
June Dog Events
The entire month of June is National Pet Preparedness Month. It's your opportunity to get a "Go Bag" ready for your dog before you'll actually need to use it. The American Humane Association has a handy 10 Item List to get you started in your Preparedness Kit. Check them out here:

http://www.americanhumane.org/animals/programs/emergency-services/pet-preparedness-month.html

Do you have an easy-going boss? Then talk to her/him about June 24th - Take Your Dog to Work Day. You can find a free "tool kit" to hosting a successful event, enter a photo contest and more at Pet Sitters International here:

https://www.petsit.com/takeyourdog


---
Easy & Fun (and of Course Healthy)
Dog Treat Recipes
Summer is all about Easy & Fun, so why make homemade dog treats difficult, time consuming and unpleasant?

Get in and out of the kitchen and spend more time with your dogs with my easy, and of course healthy, dog treat recipe eBooks. :)

Both of my eBooks, 15 Easy Dog Treat Recipes and my second eBook Dog Cake Recipes for Every Occasion have quick, easy and delicious recipes with helpful step by step pictures.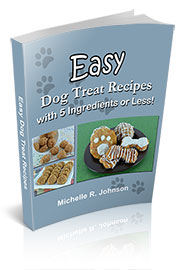 ---
Featured Fan & Tribute
Our featured fan for the month of June is the cutie pie, Allie. Unfortunately she passed over the rainbow bridge recently, but her mom Sheri wanted to say this about her girl:

"Allie the Airedale's favorite meat was chicken. She would eat anything, but chicken was tops! I made many of your dog treat recipes for her and she enjoyed every one.

She knew she wasn't allowed in the kitchen when I baked so she would lie on the carpet in the living room and slowly inch forward so only her tail and one hind leg was on the carpet. The rest of her body was sticking out in the kitchen. But it was OK as part of her was still on the carpet.

I would use about any meat I could get my hands on to make my 'dales treats--fish, beef, rabbit, chicken, whatever (as long as it was available).

Thanks for providing us with fun, innovative, nutritious recipes."

I'm so glad that I was able to help you bring your Allie some tasty and healthy dog treats while she graced your life. Thank you so much for sharing a funny and sweet memory of her with all of us.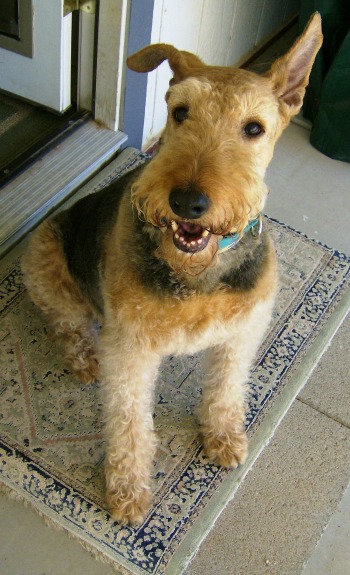 Share a picture and story of your dog and we'll make them the Featured Fan for a month. Or, If you'd like to send a tribute of your dog, please hit reply to this email, send me a picture and tell me about the special love you have for your four legged family member who is no longer with you in person, but will always be in your heart.


---
DogTreatKitchen.com Testimonials
We get lots of feedback from our website visitors, just like you. Here's what some of them are saying . . .


"I am so glad we found this site and I have forwarded it to many Furr-Baby parents. Thank you so much."


What are your thoughts? Don't keep them to yourself, Contact Us and let us know what you like, or even dislike, about Dog Treat Kitchen.com. The more you share, the more you help all dog treat bakers, and their dogs.


---
Are you and your dog hungry for more? Let me know what you would like to see on the Dog Treat Kitchen.com.

Want more of a certain type of recipe? Need treat ideas for your next dog party? Let me know what's missing from the dog treat pantry and I'll get to it right away.

Thanks for reading. Until next time,

Happy Dog Treat Baking!

Michelle

www.dogtreatkitchen.com