Featured Recipe of the Month:
Sweet Potato
Dog Chews
---

All is new with the change of the calendar. Let's get back to basics and make a healthy, easy and crowd pleasing homemade dog treat:

With over 100 reviews for this dog treat recipe alone, you know you'll be making a treat that your dog will love. Actually, they're quite tasty for us dog-parents, too!

I'd love to see your results. Click reply to this newsletter with a picture of your treats, your dog, or both. :)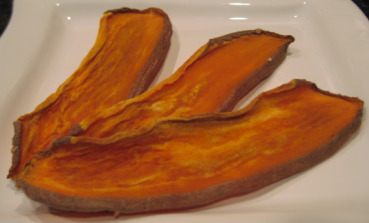 ---
The Secret is Out ...
Homemade Dog Treats are the Best!
There are a lot of free or very inexpensive dog treat recipe eBooks out there these days. But, are you really getting a good recipe? Are they healthy treats that are good for your dog? Will your dog even like the finished dog biscuit?

I have taste tested every one of my dog treat recipes on multiple dogs (plus I taste test them, too!). If my panel of testers turn their nose up to a treat, I go back to the drawing board to make a healthy and delicious dog biscuit. You will only get healthy recipes that will actually work in a regular kitchen.

So, what are you waiting for? Get to baking with tested dog treat recipes developed and written for beginner bakers.

Check out my eBook 15 Easy Dog Treat Recipes with 5 Ingredients or Less! Or, make any day special with a celebration dog cake with my Dog Cake Recipes for Every Occasion.

If you have questions, contact me on Facebook and I would be happy to help you in any way I can. Or, join the hundreds of people who have already started making their own easy, healthy and delicious dog treats by buying my recipe eBooks today.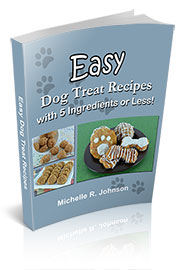 ---
Are you and your dog hungry for more? Let me know what you would like to see on the Dog Treat Kitchen.com.

Want more of a certain type of recipe? Need treat ideas for your next dog party? Let me know what's missing from the dog treat pantry and I'll get to it right away.

Thanks for reading. Until next time,

Happy Dog Treat Baking!

Michelle

www.dogtreatkitchen.com