Is Peanut Butter
Healthy for Your Dog?
What's Cooking? Dog treats, of course! The Dog Treat Mixing Bowl newsletter will keep you up-to-date on the latest recipes, ingredients, tips and techniques. Our goal is to make baking homemade dog treats simple, fun, and nutritious.
You are receiving this email because you are a subscriber to the Dog Treat Mixing Bowl Newsletter.
You can also read this newsletter online.
---
Should You Give Your Dog Peanut Butter?
Peanut Butter is an ingredient that is almost synonymous with dogs. It is found in commercial dog treats, dog medicine and of course, homemade dog treats.

But what is really "in" peanut butter? How about ... partially and fully hydrogenate vegetable oils, sugar, salt, and according to one peanut butter ingredient list, may contain traces of milk, eggs, anchovies, wheat and soy.

I don't know about you, but that's not what I'd like to have when I sit down for a peanut butter snack. So, why would you want to make homemade peanut butter dog treats with that kind of peanut butter?

So, what can you do? Make your own Homemade Peanut Butter! :)

It's super easy, and the best part is that you can control exactly what's in the peanut butter. You can also ADD really healthy ingredients like flax seed and coconut oil.

Of course, not everyone has the time to make their own peanut butter. But the next time you buy peanut butter, take a minute to look at the ingredient list. A dog friendly peanut butter will not have added salt or sugar, just dry roasted peanuts. Or, you can purchase a peanut butter that is specifically formulated for dogs, like DogsButter.

You may find that homemade peanut butter is the only way to go when making your own dog treat recipes. It's also quite tasty (and healthy) for your two-legged family members, too.

---
Easy Peanut Butter Dog Treat Recipes
Of the 15 recipes in my first eBook, 5 of them have Peanut Butter as a main ingredient. There's a training treat, a no bake recipe and a dog-safe rice crispy treat. All of them feature creamy peanut butter.

Make a fresh batch of peanut butter for your dog (and the rest of the family) and then bake a batch of delicious peanut butter dog treats. :)

Check out my Easiest dog treat recipes, yet. Read more about all the features, like over 90 original photos, of our first eBook 15 Easy Dog Treat Recipes with 5 Ingredients or Less!.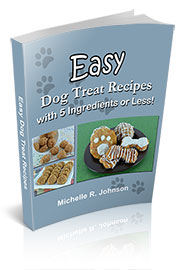 ---
YOUR Helpful Dog Tips
Sharing your life with a dog means you are learning something new almost every day.

Sometimes are sweet companions teach us compassion, patience or to simply relax and enjoy a good nap.

They can also teach us about nutrition. You want the very best for your dog, so learning about what we feed them is a big part of keeping them healthy and happy.

What has your dog taught you? Please share your tips with us so we can help more dogs (and their parents) have a rewarding life together.

Our first tip this month comes from John in regards to last months newsletter regarding milk and our dogs:


"[Stores] sell LACTASE enzyme that can be added to address mild lactose intolerance. I add cottage cheese to my dogs diet occasionally, and on general principle I add LACTASE to the cottage cheese to avoid any issues."


Thanks John, what a wonderful tip for our friends that add dairy products to their dogs diet. :)




---
DogTreatKitchen.com Testimonials
We get lots of feedback from our website visitors, just like you. Here's what some of them are saying . . .


"I love your dog treat recipes! Thanks so much for pursuing this project – I agree that making your own dog treats is an important strategy for raising a healthy dog!"


"Thanks you so much, I'm so glad you have this site, I love your ideas."


What are your thoughts? Don't keep them to yourself, Contact Us and let us know what you like, or even dislike, about Dog Treat Kitchen.com. The more you share, the more you help all dog treat bakers, and their dogs.


---


Are you and your dog hungry for more? Let me know what you would like to see on the Dog Treat Kitchen.com.

Want more of a certain type of recipe? Need treat ideas for your next dog party? Let me know what's missing from the dog treat pantry and I'll get to it right away.

Thanks for reading. Until next time,

Happy Dog Treat Baking!

Michelle

www.dogtreatkitchen.com