Quick & Easy, Dog Safe,
Homemade Chicken Broth
Have you joined us on Facebook yet? Be sure to check us out, after reading this newsletter, to keep up with new dog treat recipes. Plus, read my answers to other dog treat bakers questions.
Facebook is also a wonderful place to share pictures of your own homemade dog treats! :) And don't forget about your treat recipients, share photos of your dogs, too. :)
*Special Note* Click the reply button and let me know what dog treat recipes you'd like to see on Dog Treat Kitchen. What recipes do you want to see in the following months? It's as easy as hitting reply and letting me know! :)
As always, you can also read this newsletter online.
---
Dog Safe Homemade Chicken Broth
Chicken broth, it's in so many healthy dog treat recipes, but is it the best for your dog?

Here at DogTreatKitchen.com we are always striving to improve our healthy homemade treats. That's why we stopped and asked, is store bought chicken broth the best we can do?

If you are purchasing organic, low-sodium chicken broth, that is a good start. These commercially made broths are a suitable alternative. However, some brands include sugars and onion powder. Although the amounts are probably too small to do any harm, why take the chance?

Like some bakers, I love to bake, but I'm not a great cook. I would rather make savory muffins and pastries (for dogs or humans) than pull out a skillet or pan! :)

So when it came to making chicken broth, I just assumed it was going to be challenging and involved. I was dead wrong!

Making your own dog safe, healthy homemade chicken broth is as easy as tripping over your own two feet (I'm clumsy, too!) :)

And, don't even get me started on how delicious this broth turns out to be. I thought it might taste a little better, but wow, my taste buds were blown away. The dog safe broth has a richness that your dog will immediately be able to tell the difference in. She'll never let you buy commercial broth again. :)

Follow our recipe below and you'll have enough healthy chicken broth for your pooch and your two legged family members.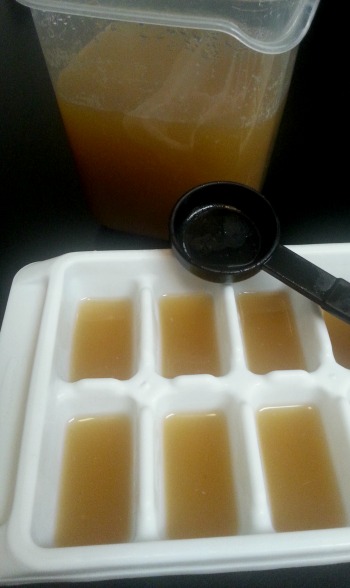 Ingredients:
2 pre-made rotisserie chickens
4 or 5 carrots
water
Instructions:
Remove all of the meat from the two rotisserie chickens. Set this meat aside for another use.
Put the two chicken carcasses in a 5 Quart Pot.
Peel and cut the carrots into one inch chunks. Put these into the pot with the chicken.
Fill your pot with enough water to cover the ingredients, or up to 1/2 inch below the top.
Bring this to a boil.
Reduce the heat to a slow simmer.
Let this simmer for 2 hours. Occasionally check the pot to make sure it is still at a slow simmer and does not turn into a boil or stop simmering.
Let the broth cool, then put a colander on top of a large container with a lid. Strain the broth, then place the lidded container into the refrigerator. Let the broth cool completely, or overnight.
Once the broth has cooled, use a slotted spoon to remove the layer of fat that has collected at the top of the broth. Discard the fat.
If your cooled broth is more solid than liquid, warm it slightly in the microwave.
Then freeze the broth in tablespoon sized ice cubes, or another commonly used measurement, so you can easily grab exactly the amount of broth you need for a dog treat recipe.
Your homemade chicken broth will be fresh in the refrigerator for about 5 days. It will stay fresh in the freezer for about 3 months.
If you're ready to take your homemade dog treats to the next level, consider reading my review of the best eBook on How to Start Your Own Dog Bakery Business.


---
Featured Fan - Koby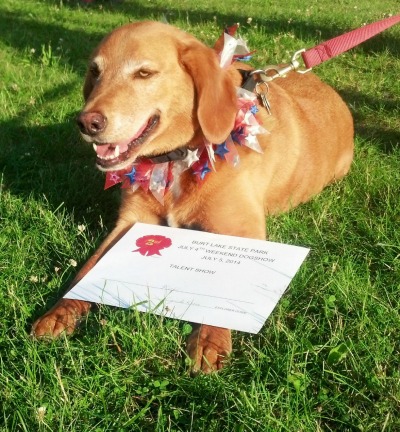 "We've had Koby for 4 years, he will be 8 next week. We adopted him from the local Humane Society in Northern Michigan and is the best dog ever - and is a true Momma's boy!

Since I'm very particular with what I feed him, I was very happy to find your website a couple of years ago, love the recipes and articles, it's one of the best out there, for sure! I look forward to your newsletters too - they never get deleted and I've shared them with many of my friends who have dogs.

Koby recently won a prize for catching treats - your homemade peanut butter treats, oh course! We were camping at a state park over the 4th of July weekend and they had a dog show. Koby took second place in Talent for a game we play that I call Catch-a-Treat, too cute!! I've attached a photo - he's such a happy boy! LoL"

Thanks Tammy for sharing your precious boy with me and all our newsletter subscribers.

If you'd like to have your dog be our next Featured Fan, send in a photo, description and information regarding what homemade dog treat your dog loves.

Reply to this newsletter, or use our Contact Us form to have your dog considered for the next Featured Fan. You must include a photo to be included.


---
Dog Party Day &
Deaf Dog Awareness Week
Mark your calendar, put on your best dancing shoes, and get ready for National Dog Party Day - September 13th & 14th. But this is no ordinary party, it's a party with a purpose. There are several already scheduled throughout the country, and their website gives you info on how to throw your own Dog Party.

Get more information at - http://www.nationaldogpartyday.com/

Not in the partying mood? That's OK, you can support dogs in September by participating in Deaf Dog Awareness Week, which is the last full week in September. Deaf dogs make wonderful companions, so go to Petfinder.com, or your local shelter and ask about any deaf dogs that are ready to be adopted.

Learn more at - http://www.deafdogs.org/


---
Reviews for Easy Dog Treat Recipes eBook
For the cost of a box of commercial dog treats, you can have my eBook,
15 Easy Dog Treat Recipes with 5 Ingredients or Less! Then you can make endless amounts of healthy, yummy, tested dog treat recipes that are already being enjoyed by countless dogs.

Here is a recent review for my eBook:

"Wonderful recipes for all sorts of dog treats! Even if you've never baked a thing before, the author gives you a list of ingredients, substitutes and where to find the ingredients. She also gives you a list of simple things you need like baking sheets & utensils to make the job easier. There are recipes for dietary restrictions that your pet may have too. The recipes are easy to follow and my dogs love all of them!"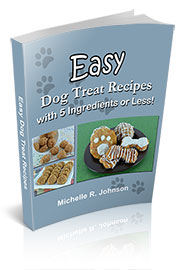 ---
DogTreatKitchen.com Testimonials
We get lots of feedback from our website visitors, just like you. Here's what some of them are saying . . .


"Our english bullies LOVED the treats w/ the blueberries! Thank you for posting that recipe on your site."


"I love your dog treat recipes! Thanks so much for pursuing this project – I agree that making your own dog treats is an important strategy for raising a healthy dog!"


What are your thoughts? Don't keep them to yourself, Contact Us and let us know what you like, or even dislike, about Dog Treat Kitchen.com. The more you share, the more you help all dog treat bakers, and their dogs.


---
Are you and your dog hungry for more? Let me know what you would like to see on the Dog Treat Kitchen.com.

Want more of a certain type of recipe? Need treat ideas for your next dog party? Let me know what's missing from the dog treat pantry and I'll get to it right away.

Thanks for reading. Until next time,

Happy Dog Treat Baking!

Michelle

www.dogtreatkitchen.com