Embrace Spring with Herbal
Homemade Dog Treats
What's Cooking? Dog treats, of course! The Dog Treat Mixing Bowl newsletter will keep you up-to-date on the latest recipes, ingredients, tips and techniques. Our goal is to make baking homemade dog treats simple, fun, and nutritious.
You are receiving this email because you are a subscriber to the Dog Treat Mixing Bowl Newsletter.
Do you know a dog that would appreciate a homemade dog treat? Then forward a copy of this newsletter to your friend and their dog.
If a friend DID forward this to you, and you'd like to know more, you can subscribe to this newsletter. Or, visit us online at Dog Treat Kitchen.com
If you'd prefer, you can read this newsletter online.
I would love to know what you're thinking! Simply hit the reply button for your questions and comments about this newsletter or anything else.


---
Topics & Recipes
Parsley Pucker-Ups


Four Herb Tuna Tots


Dog Treat Decorating Supplies & Pre-made Mixes


Bark Back Survey Results


Top Twelve Best Dog Foods


Dog Treat Kitchen Testimonials


May Sneak Peek
---
Parsley Pucker-Ups
Never fear bad dog breath again with these parsley dog treats. Keep them around for in between brushing and visits to the dog dentist.

Parsley is an easy herb to grow for you and your dog. We recommend starting with a small plant, because seeds can take quite awhile to sprout.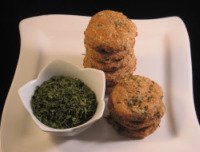 Parsley Pucker-Ups - If your dog greets you with kisses that are less than fresh, give him a couple of these parsley dog cookies, and Pucker-Up!


---
Four Herb Tuna Tots
Dog treats with tuna are not only easy to prepare, they are packed with protein and omega 3 fatty acids.

We made these treats with four different herbs to make them extra tempting. You can easily substitute other dog-safe herbs, or use fresh herbs instead of dried.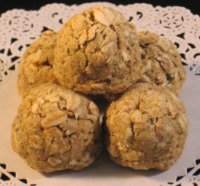 Four Herb Tuna Tots - Customize this recipe to your dogs taste's with canned salmon or even chicken!


---
Baking & Decorating Supplies
Have I got an awesome website to share with you!

The K9 Cakery is going to be your new favorite go-to website, after Dog Treat Kitchen.com, of course! :)

Some of the Great Products You'll Find:
Sugar Free Yogurt Icing Mix


Dog Cake & Biscuit Mixes


Dog Bone Cake Pans & Bone Cookie Cutters


Colored Sesame Seeds for Decorating
And that's just the beginning. You have got to check out the K9 Cakery. If you are a busy dog mom or dad, sometimes you just can't make your dog's treats from scratch. Well, this is the place to get healthy pre-made mixes to bake up the best in a time crunch.
Or, if you are a dog treat baker with a business, you will love the quality of the products, and that they can be purchased in bulk at wholesale prices.


---
Bark Back - Results
Thank you to everyone who took the time to take last months survey: What Day of the Week do You Read this Newsletter?

We had an overwhelming response for Saturday, so we're going to keep the publication each month to the first Saturday of the month. Thank you again for your time and look for next months survey and up coming contests! :)


---
Top Twelve Best Dog Foods
When you make your dog homemade dog treats, you have the power to choose exactly what goes into each treat. You can customize the size, texture, and nutritional value for each morsel.

But when it comes to your dog's food, do you know what is in it? Is the brand you are feeding your dog on the list of the Top Twelve Best Dog Foods? The mystery behind dog foods are hidden in the ingredient list.

Once you know how to read a dog food ingredient list, it's like you know a little secret. You understand what "meal", "by-products" and what "BHA & BHT" really are and you can choose the best food for your dog.

To be able to give our dog's the very best in dog treats or dog food, we have to know what the best is! The only way to do that is to learn about ingredients, labels, and what our dogs really need to live long and healthy lives right by our sides. Click here to read my review of the eBook that can answer all of the above questions. The book will also give you the tips you need to switch your dog to a new food. And, if you've ever wondered about a BARF or Homemade dog food diet, it even mentions the benefits of these two choices.


---
Dog Treat Kitchen Testimonials
We get lots of feedback from our website visitors, just like you. Here's what some of them are saying . . .

"You have a great site!! Thank you so much!"

"Well, this is the easiest cookie recipe ever! I have made several batches of this, both with and without wheat flour (oat flour is my preferred alternative). My dog sits in the kitchen waiting for them to come out of the oven! Many of our doggy friends got some of these cookies for the holiday, and they shipped well, too."



What are your thoughts? Don't keep them to yourself, Contact Us and let us know what you like, or even dislike, about Dog Treat Kitchen.com. The more you share, the more you help all dog treat bakers, and their dogs.


---
Newsletter Sneak Peek
What's New for May?

May is National Barbecue Month, so we're going to get you prepared to make some sensational dog treats that are inspired by our love of the grill and living outdoors!


---


Are you and your dog hungry for more? Let me know what you would like to see on the Dog Treat Kitchen.com.

Want more of a certain type of recipe? Need treat ideas for your next dog party? Let me know what's missing from the dog treat pantry and I'll get to it right away.

Thanks for reading. Until next month,

Happy Dog Treat Baking!

Michelle

www.dogtreatkitchen.com