Homemade Gingerbread
Dog Treats
---
Gingerbread Dog Treats & Bones
Winter is a time for reflection and traditions. If you don't have a dog themed tradition yet, my Gingerbread Dog Bones will get you started.

Gingerbread Dog Bones - this recipe is quite versatile to fit your dog. If your dog can't have wheat, you can substitute a premade wheat and gluten free flour mix. If you want to make these bones a little less fattening, substitute the canola oil for unsweetened apple sauce. And last, if your dog has a sensitive stomach, cut back on the ground ginger and only use one Tablespoon for the recipe.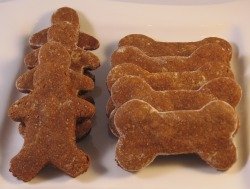 ---
December Dog Events
December 2nd - National Mutt Day - You don't have to know your pedigree to be have a special and rewarding life. Learn about the famous Mixed Breed dogs that have graced our lives and give extra love to your own mixed breed dog, if you are fortunate enough to have one in your life. Find out what you can do to help bring awareness to the "Mutts" that still need to find their forever home here:

That's about all that is happening in December, but as a reminder, it's a good time to pick out next years calendar. Check out these adorable 2018 Dog Calendars
for inspiration.


---
The Secret is Out ...
Homemade Dog Treats are the Best!
There are a lot of free or very inexpensive dog treat recipe eBooks out there these days. But, are you really getting a good recipe? Are they healthy treats that are good for your dog? Will your dog even like the finished dog biscuit?

I have taste tested every one of my dog treat recipes on multiple dogs (plus I taste test them, too!). If my panel of testers turn their nose up to a treat, I go back to the drawing board to make a healthy and delicious dog biscuit. You will only get healthy recipes that will actually work in a regular kitchen.

So, what are you waiting for? Get to baking with tested dog treat recipes developed and written for beginner bakers.

Check out my eBook 15 Easy Dog Treat Recipes with 5 Ingredients or Less! Or, make any day special with a celebration dog cake with my Dog Cake Recipes for Every Occasion.

If you have questions, contact me on Facebook and I would be happy to help you in any way I can. Or, join the hundreds of people who have already started making their own easy, healthy and delicious dog treats by buying my recipe eBooks today.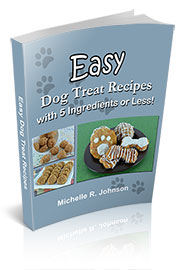 ---
Are you and your dog hungry for more? Let me know what you would like to see on the Dog Treat Kitchen.com.

Want more of a certain type of recipe? Need treat ideas for your next dog party? Let me know what's missing from the dog treat pantry and I'll get to it right away.

Thanks for reading. Until next time,

Happy Dog Treat Baking!

Michelle

www.dogtreatkitchen.com