Peanut Butter & Jelly
Smoothie Pops
What's Cooking? Dog treats, of course! The Dog Treat Mixing Bowl newsletter will keep you up-to-date on the latest recipes, ingredients, tips and techniques. Our goal is to make baking homemade dog treats simple, fun, and nutritious.
You are receiving this email because you are a subscriber to the Dog Treat Mixing Bowl Newsletter.
Do you know a dog that would appreciate a homemade dog treat? Then forward a copy of this newsletter to your friend and their dog.
If a friend DID forward this to you, and you'd like to know more, you can subscribe to this newsletter. Or, visit us online at Dog Treat Kitchen.com
If you'd prefer, you can read this newsletter online.
I would love to know what you're thinking! Simply hit the reply button for your questions and comments about this newsletter or anything else.


---
Dog Treat Recipe of the Month:
*EDITOR'S NOTE*:Please excuse this second edition of the Dog Treat Mixing Bowl Newsletter. I failed to include the link to the recipe of the month.

Great Big Thank You to my subscribers who caught the misstep. Here is the recipe:

Peanut Butter & Jelly Smoothie Pops

Pant, Pant, Pant ... Yep, you've got a hot dog on your hands.

How do you help your dog cool off, and tantalize her taste buds?

Help your dog enjoy the classic combination of peanut butter and jelly in this refreshing cool smoothie dog treat drink.

Serve frozen, pictured below, in fun seasonal shapes.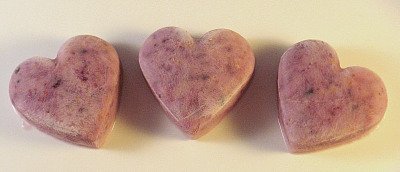 Or, leave it in the liquid form for an easy way of administering liquid vitamins and supplements.

When time is short, but you still want to bake the very best for your dog, use a peanut butter dog cake mix instead. Don't forget the icing! :)


---
Correction from May's Newsletter
I want to apologize for an error in the May Newsletter. We were trying to give you two yummy BBQ recipes to enjoy for National BBQ Month, and it seems that both links went to the same recipe! Oops! So, even though it's a little late, there is still plenty of BBQ season left, so please enjoy this dog treat recipe:

This BBQ Chicken Dog Biscuit is sure to make your warm evenings outside better for your dog. They also include healthy wheat germ, chicken broth, and rye flour.


---
Newsletter Sneak Peek
What's New for July?

Next month we are preparing the most tempting, tantalizing training treat that for your dog.

He will not only obey your every wish, he'll start reading dog training books to teach himself new tricks, just to get these mouth-watering goodies! :)


---


Are you and your dog hungry for more? Let me know what you would like to see on the Dog Treat Kitchen.com.

Want more of a certain type of recipe? Need treat ideas for your next dog party? Let me know what's missing from the dog treat pantry and I'll get to it right away.

Thanks for reading. Until next month,

Happy Dog Treat Baking!

Michelle

www.dogtreatkitchen.com