Peanut Butter & Bacon
Dog Biscuit Recipe &
National Train Your Dog Month
---
Drool Worthy Peanut Butter
& Bacon Dog Biscuits
If your dog could choose two flavors to combine, we bet peanut butter and bacon would be close to the top of the list. You can please every dog whether they prefer sweet treats or savory, because this dog biscuit has them both.

Peanut Butter & Bacon Dog Biscuit Recipe

Bakers Reviews:

"I made these several days ago for my dog-a 13 pound terrier mix and he went absolutely crazy. He loves them and often goes to the drawer I keep them in and begs for one. Great combination of ingredients and apparently he thinks it's perfect."

"They were very easy to make and they came out exactly as the picture. My dog loves them."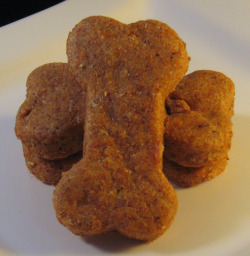 You can make several substitutions to this dog treat recipe, depending on your needs.

Peanut Butter - Don't fret if your family doesn't keep peanut butter in the pantry. You can also use almond butter or cashew butter. However, skip the walnut and macadamia butter. Our dogs shouldn't have walnuts or macadamias.

Ground Flax & Wheat Bran - If you don't have these ingredients or can't find them at your local store, you can omit them. You'll need to add about 1/3 cup extra of whole wheat flour to make up for them.

Homemade Peanut Butter - Use our recipe to make a healthy and fresh dog friendly peanut butter. We'll look the other way as you spread some on toast for yourself. ;)

Tuesday, January 24th is National Peanut Butter Day. Be sure to bake up a batch for your dog and all of your dog loving friends to celebrate this fun and flavorful day.


---
National Train Your Dog Month
January is National Train Your Dog Month.

Your dog is smart, he's already trained his person to learn more about healthy homemade dog treats. :) But, every dog can learn a new trick, new proper manner or unlearn a negative behavior.

For example, did you know that some dogs need to be taught how to play with toys?

Did you know you could help your dog love going to the Vet? Oh yeah, that's a big one for a lot of us pet parents.

Or, a simple command of coming when called. Yes, your dog will come when you have a peanut butter and bacon dog biscuit, but there are other times when you need her to come.

Find out even more ways to train your dog at:

Or find a professional dog trainer to help you and your dog learn the basics of everyday life.


---
National Dress Up Your Pet Day
One more fun item for this month ...

Saturday, January 14th is National Dress Up Your Pet Day

I love this day, because who doesn't love a sweet pup in a sweater, bandanna, or a super hero costume.

Depending on the temperament of your dog, she'll love it, too. Consider participating in this day if your dog loves attention. Plus, another layer, in this case cute clothes, may help keep your dog warm this winter.

Find out more wacky ways to celebrate the day by going to the website - www.DressUpYourPetDay.com/
---
Dog Treat Recipe eBooks
For the cost of a box of commercial dog treats, you can have my eBook,
15 Easy Dog Treat Recipes with 5 Ingredients or Less! Then you can make endless amounts of healthy, yummy, tested dog treat recipes that are already being enjoyed by countless dogs.

Here is a review for my eBook:

"This is a compilation of some very tasty sounding and easy recipes that any and every dog would love to chomp!"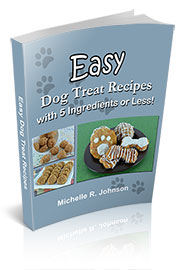 ---
Are you and your dog hungry for more? Let me know what you would like to see on the Dog Treat Kitchen.com.

Want more of a certain type of recipe? Need treat ideas for your next dog party? Let me know what's missing from the dog treat pantry and I'll get to it right away.

Thanks for reading. Until next time,

Happy Dog Treat Baking!

Michelle

www.dogtreatkitchen.com