6 Healthy Habits to Start
with Your Dog this Year &
National Train Your Dog Month
---
6 Ways to Have a Healthy
New Year with Your Dog
A new year usually means new goals and a clean slate. It's also a great time to get started with a few new healthy habits for yourself and your dog.
Weight Loss - Dropping a few pounds is on everyone's mind at the beginning of the year. And the loss of just a couple pounds may be all your dog needs to live a healthier and longer life. Start with talking to your dog's Veterinarian. She'll know the best path for your individual dog to take. While you're there, ask about incorporating a few healthy homemade dog treats. Like these:



Green Bean Dog Biscuits with Beef Broth - Your dog won't know these are to help him lose weight. With the addition of cheese and beef broth, it's a treat he'll enjoy even after he sheds a couple pounds.

Schedule More Playtime - Life can get busy and we can overlook the important things. So schedule time with your dog. Extra play is not only a time for exercise, but also a time to bond with your dog. And your dog won't be the only one to benefit. Spending 30 minutes a day focusing on your dog will help lower your stress levels, too.


Measure at Meal Time - Don't free feed your dog. Determine the proper amount to feed your dog on a daily basis and then measure it out. You'll be able to keep track of how much she's eating and it'll probably make your bag of food last longer, too.


Take Inventory - At least once a year, check the quality of your dogs everyday items. What's the condition of her collar, leash, food bowls, toys, blankets, etc. If needed, replace the worn out items.


Daily Grooming - Depending on your dogs coat, daily or regular grooming is a must. Take a couple minutes at the end of the day to have some quite brushing time before bedtime. Make it an opportunity to bond with your dog. The act of brushing your dog is good for his coat as it dispenses oils from the skin to the fur. It's also a way to show love with extra pets and snuggles.


Dog Saving Fund - Begin putting away a little each month for the unexpected. Having some money set aside makes everything from regular visits to the Vet, buying needed food and toys, to paying for unexpected health bills much easier.
What's your new goal or habit for your dog this year? Send me your tips, stories and thoughts for 2016. And don't forget to share a picture of your dog, I love seeing your fur-babies! :)
Simply hit reply to this newsletter, attach a photo and tell me a little about your plans for the new year.


---
Winter Fun
Below are two sweet Bernese Mountain Dogs, Jake and Coal, enjoying there favorite snow hill. Thanks Lenora for sharing their photo. They look like they could be playing outside for hours. :)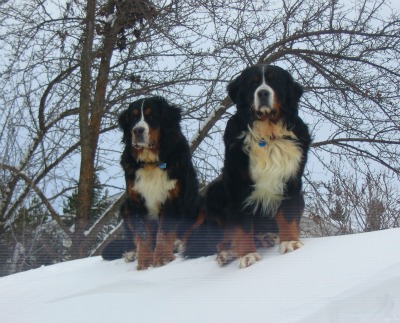 And we have adorable Koby who is clearly enjoying his time in the snow! :)

His Mom, Tammy said "We just got the first snow of the season this weekend and Koby was so excited to be out running in the woods - he certainly is a happy 9 year old puppy dog, as you can tell! We go for a walk everyday and then it's back to the house for a yummy homemade peanut butter dog treat, his favorite recipe!!

After a fun time running thru the woods and fields, Koby does love to snuggle in his blanket, curled up on the couch next to his Momma during the cold northern Michigan winter evenings! There is nothing better than the love of a puppy dog, whatever the season!!"
Thank you ladies for sharing pictures of your four-legged family members! :)


---
National Train Your Dog Month
January is National Train Your Dog Month. Whether your dog is 10 months old, or 10 years old, there's something that he could be better trained to handle.

For example, does your dog:
Love Visiting the Vet?
Come When Called?
Walk without Pulling?
Release Toys When Asked?
These are just some of the things that can be improved upon. Check out the tips from the team of dog trainers over at:
http://www.trainyourdogmonth.com/
They have free webinars and loads of helpful tips and resources to help your dog develop social skills, manners, and learn a new trick or two.


---
DogTreatKitchen.com Testimonials
We get lots of feedback from our website visitors, just like you. Here's what some of them are saying . . .


"You have a great website with valuable information."



"I am fairly new to your website, but I just wanted to say thank you for the wealth of information and recipes you share on your site. I have a five year old Aussie who is on a restrictive diet. As I make all of her food, your website is a great resource. I have been making your Sweet Potato Dog Chews for a couple months now and she loves them!


What are your thoughts? Don't keep them to yourself, Contact Us and let us know what you like, or even dislike, about Dog Treat Kitchen.com. The more you share, the more you help all dog treat bakers, and their dogs.


---
Are you and your dog hungry for more? Let me know what you would like to see on the Dog Treat Kitchen.com.

Want more of a certain type of recipe? Need treat ideas for your next dog party? Let me know what's missing from the dog treat pantry and I'll get to it right away.

Thanks for reading. Until next time,

Happy Dog Treat Baking!

Michelle

www.dogtreatkitchen.com