Fruity Jello
Dog Treat Recipe &
National Pet Fire Safety Day
---
Super Fruit Dog Safe Jello Recipe
The summer begs for cold treats to enjoy outside. There's so much to do and so much fun to be had during the warmer months. So go outside, take your dog and give these cold treats to cool off and savory these sweet summer nights.

You can cut these treats into squares, or better yet, pour the mixture into a silicone dog theme pan
to make fun shapes.
Ingredients:
3 cups of low sodium chicken broth
1 cup of pomegranate juice
1 cup frozen (or fresh) blueberries
1/2 cup water
2 ice cubes
4 packets unflavored gelatin
Instructions:
Pour the chicken broth and pomegranate juice into a small sauce pan and stir.
Set the sauce pan on the stove top, on high heat, and cover. Prepare the other ingredients while it heats to a boil.
In a blender puree the blueberries and water.
Pour the blueberry mixture into a medium bowl and add two ice cubes. Stir to cool the blueberries.
Sprinkle in the packets of gelatin and stir. After a couple minutes you will have a thick blueberry mixture or paste.
Once the broth and juice come to a boil, remove from the heat.
Using a rubber spatula, scoop out the blueberry mixture and add it to the hot broth and juice.
Set a timer for 5 minutes and stir until the gelatin is dissolved.
Carefully pour the hot liquid into a glass 13 x 9 pan.
Refrigerate for at least 3 hours.
Cut into 1 inch squares and serve.
You can substitute the chicken broth with another low sodium broth like beef or veggie broth. You could also use another dog safe fruit like strawberries or apples.
Cut the jello squares as small or as big as will fit the size of your dog. Actually, this dog recipe would be perfect to hide a pill in, if your dog needs a daily supplement or medication.
Take full advantage of the warm summer months to run jump and play with your dog. Just keep her cool with fresh water and a couple super fruit dog jello treats. :)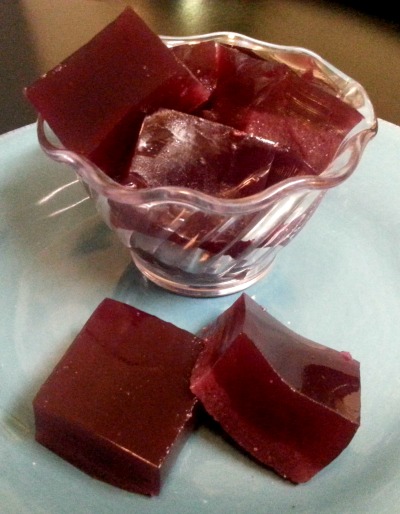 ---
July Dog Events
July 15th - National Pet Fire Safety Day - This is a special day to ensure that you have done everything necessary in case of a fire. Do you have a pet window cling
to alert fire fighters of how many pets are inside your home?

Next, practice fire escape routes in case you are home when a fire breaks out. Then, read all the other wonderful tips that the AKC has gathered to help you prepare for the worst so you can keep all of your family (two-legged and four-legged) safe.

July 21st - National Craft for Your Local Shelters Day - What a superb reminder that we can do more than donate money and time to our local shelters. We can make needed items for the dogs waiting for their forever homes. For example, many shelters need beds, toys and treats for their guests. You can also make bandannas, vests or leashes that have the words "Adopt Me" to put on those adorable pups. Contact your local shelter to see what is needed and get to crafting. :)

Check out this adorable crafting for dogs website for more ideas and inspiration.


---
Original Dog Treat Recipes
You'll Find Nowhere Else!
You have many choices of dog treat recipe books. People are beginning to see what you've known all along, homemade is best and includes quality ingredients. So, what makes the recipes I've developed in my eBook different?
Tested - All of my recipes are tested and perfected for you, the home dog treat baker. How do you know? Because I show you step by step photos of exactly how to make each recipe.
Original - I have developed each and every one of the 15 easy dog treat recipes in my eBook. You will not see them in any other book.
Easy - I made sure each recipe has 5 ingredients, or less. That's a tall order for a delicious and healthy dog treat. Each recipe also has common ingredients and simple equipment so you can get started making treats right away.
Healthy - When you make your own easy dog treats, you know exactly what is and isn't in them. Most packaged treats have twice or three times as many ingredients. Plus, those are full of artificial things and other products you can't pronounce.
Check out my eBook 15 Easy Dog Treat Recipes with 5 Ingredients or Less! Or, make a day special with a celebration dog cake with my Dog Cake Recipes for Every Occasion.
If you have questions, contact me on Facebook and I would be happy to help you in any way I can. Or, join the hundreds of people who have already started making their own easy, healthy and delicious dog treats by buying my recipe eBooks today.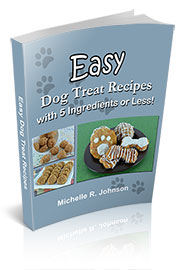 ---
Are you and your dog hungry for more? Let me know what you would like to see on the Dog Treat Kitchen.com.

Want more of a certain type of recipe? Need treat ideas for your next dog party? Let me know what's missing from the dog treat pantry and I'll get to it right away.

Thanks for reading. Until next time,

Happy Dog Treat Baking!

Michelle

www.dogtreatkitchen.com